After a positive pregnancy test, an ultrasound is your next step. At Turlock Pregnancy and Health Center, we provide ultrasounds at no cost to you. Administered by a registered nurse, an ultrasound allows you to see your pregnancy and for the patient advocate to provide you with information about your options.
What does an ultrasound do?
An ultrasound uses high-frequency sound waves to project an image of your uterus onto a screen. Ultrasounds are used throughout pregnancies to check in on the development and ensure things are progressing correctly. During your first ultrasound, the main goal is to verify your positive pregnancy test by locating the pregnancy.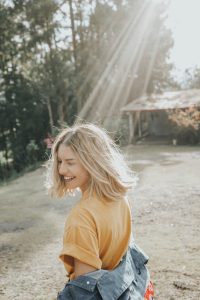 After confirming the pregnancy, your nurse will measure your pregnancy and estimate how far along your pregnancy has progressed. She will also test to see if there is a detectable heartbeat. If there is no detectable heartbeat, then it may still be very early in your pregnancy and you could naturally miscarry. If there is no detectable heartbeat or the scan is inconclusive, the nurse may have you return for a second scan. Lastly, she will ensure that your pregnancy has implanted in the uterus. If it has not, it is considered an ectopic pregnancy, and you will need to see your physician or go to the ER right away.
What should I expect during an ultrasound?
To prepare for your ultrasound appointment, you will be asked to come in with a full bladder. This helps your nurse get a clear view of the pregnancy. You will be asked to lie down on an examination table and a special gel will be applied to your lower abdomen. Your nurse will then use a transducer, and swipe it across your abdomen to gain the best view of the pregnancy. You should be able to see the screen and the image of your pregnancy during the procedure and the nurse will help point things out to you. If it is determined during your abdominal scan that you are less than 14 weeks pregnant then a transvaginal scan will also be completed.
What are my next steps?
After an ultrasound, it is time to begin considering your options. At Turlock Pregnancy and Health Center, we believe there is power in knowing all of your options. That is why we offer accurate and up-to-date information about all of your options- including parenting, adoption, and abortion. It is your choice, but we are here to support you and answer any questions you may have through your decision-making process.
Make your appointment for your free pregnancy test and ultrasound at Turlock Pregnancy and Health Center today!